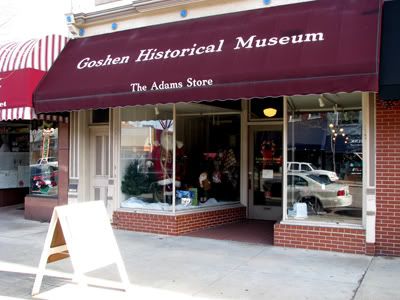 The Goshen Historical Society Museum. Dave Zollinger photo.
Goshen has a very active historical society. That society maintains a fine museum in the former Adams store at 124 S. Main Street, which is along the route of the Lincoln Highway.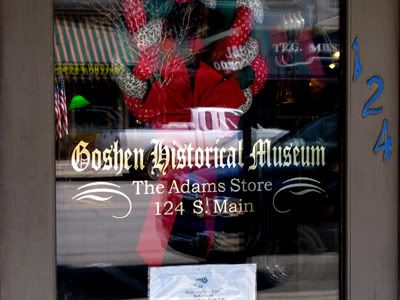 The museum is located in the former Adams Store. Dave Zollinger photo.
The Adams store building was constructed in 1888 as part of the Harper Block. C.G. Adams & Sons opened their "jewelry & gent's furnishing store" in 1901. When it closed in 1997 the store had been owned and operated by members of the Adams family for the entire length of time. Pauline (Polly) Adams was the last, and I can remember visiting Polly at the Adams store to buy Boy Scout uniforms when I was a youngster.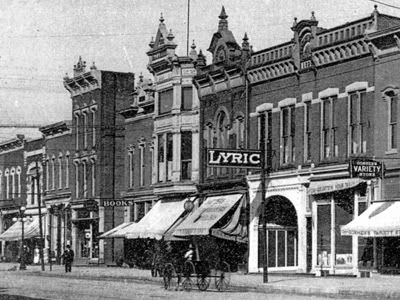 This old photo shows the store that now houses the Goshen Historical Society museum. It's the one with lettering on the awning, directly behind the buggy. Photo courtesy of Goshen Historical Society.
Since the Goshen Historical Society bought the building in 1998 it has been the subject of major improvements to it's infrastructure and exterior. Some remodeling has been done as well.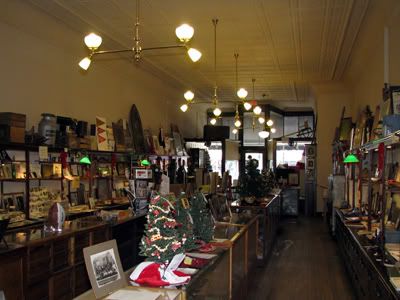 The beautiful old building makes a fine place to house the museum. Dave Zollinger photo.
The museum is used to display artifacts that were made or in some way pertain to Goshen. Many donations of such items have been made by Goshen residents. Currently the museum is open every Saturday from 10AM to 1PM and is staffed by Goshen Historical Society members.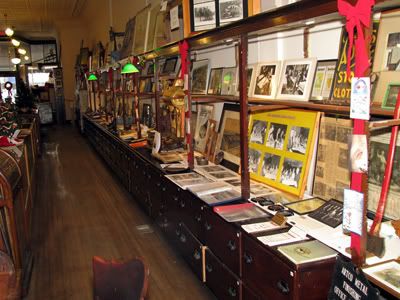 The museum holds a large collection of artifacts relating to Goshen's history. Dave Zollinger photo.

The Goshen Historical Society museum is easy to find. Located right along the Lincoln Highway at 124 S. Main Street, it's just two doors south of
Sorg Jewelers
.
Contact:
The Goshen Historical Society
"The Adams Store"
124 S. Main Street
Goshen, IN 46526
574-975-0033