Goshen is the county seat of Elkhart County, Indiana. Although the city of Elkhart is considerably larger than Goshen, the latter was probably named the county seat because of it's central location within the county.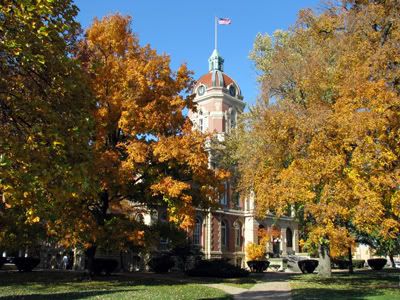 View of the Elkhart County Courthouse, Fall 2008. Looking towards the northwest from the intersecton of Main & Lincoln. Dave Zollinger photo.

The Elkhart County Courthouse stands in the center of town, at the intersection of Main Street & Lincoln Avenue. In this particular part of town Main Street is the route of the Lincoln Highway.
The courthouse is a beautiful structure in it's own right. But the grounds also hold the Neptune Fountain (which I did not photograph because it was already sealed up for the winter), and the county war memorial.
Because of it's central location the courthouse is a good place to park and explore downtown Goshen. It's within easy walking distance of the
Olympia Candy Kitchen
,
Sorg Jewelers
, the former site of the
Alderman Hotel
, the old Goshen Police Booth, the Goshen Antique Mall, and a score of stores, coffee shops, and historical buildings.
Historical marker at the Elkhart County Courthouse. Dave Zollinger photo.
Inscription on Marker Reads:
Side one:
Elkhart County was formed by the Indiana General Assembly 1830; the first county seat was located in Concord Township. County commissioners relocated the county seat to Goshen 1831. Jacob Studebaker, Goshen, designed first brick courthouse, completed 1833. Barrows and Garnsey, Chicago, designed second brick courthouse, completed 1870.
Side two:
Patton and Miller, Chicago, redesigned and enlarged Renaissance Revival style structure, completed 1909. Contractor, P. H. McCormick, Columbus, dismantled south end tower and dome, added north and south wings, and built new central dome and tower incorporating original 1870 clock. Listed in National Register of Historic Places 1980.


The Elkhart County Courthouse is a Goshen landmark, and it's located right on the route of the Lincoln Highway.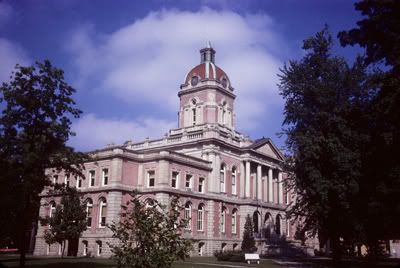 Elkhart County Courthouse as photographed in 1970. View is same direction as my photo above. Photo by Calvin Beale.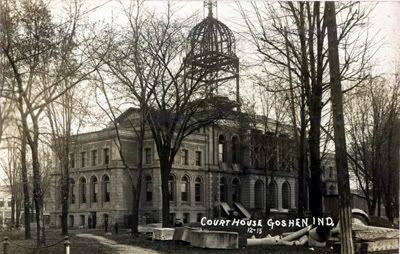 View of the courthouse under construction in 1908. Photo believed to be public domain.
Map:
View Larger Map