What's the name of that road? Lincoln Highway? Lincolnway? Lincoln Avenue? Well in Goshen, Indiana it might be any of the above. Confusing?
Worse yet, many people who live here don't seem to know the difference. So if you use the word "Lincoln" when asking for directions, you may get directions to the wrong place.
In an effort to make your visit to Goshen a little bit easier, we offer the following:
Lincoln Highway
The Lincoln Highway generally follows US Highway 33 through town, although it leaves the highway on the west side. It is well marked with Red, White & Blue "L" signs. One of my goals for this site is to provide detailed driving directions, with maps and photos, for following the route through town. Some day. However, I don't know when I'm going to get that accomplished.
In my experience, most Goshen residents under the age of 50 don't have a clue what the Lincoln Highway is or where to find it. Many above age 50 don't either.
Lincolnway East
As US 33 meanders through town it has several different local street names. But from the junction where it curves into Madison Street near the high school, on to the city limits, US 33 is known as "Lincolnway East". That's the official Goshen street name for
this stretch of US 33
. Remember, when a Goshen resident uses the term "Lincolnway" they are only talking about this one stretch of US 33 on the east side of town, not the whole Lincoln Highway.
Worse yet, the name "Lincolnway East" seems to have fallen out of the common vernacular of late with many Goshen residents calling this stretch of road "US 33 East" or something similar. Sometimes when you are speaking to someone about Lincolnway East, they think that you are talking about East Lincoln Avenue (see below).
Lincoln Avenue
Goshen has a main north/south thoroughfare that divides the town into it's east and west sections. That road is State Road 15, also known as Main Street.
Goshen also has a main east/west thoroughfare that divides the town into it's north and south sections. That road is Lincoln Avenue. The eastern section of Lincoln Avenue is also designated as State Road 4.
These two streets cross each other at the "main" downtown intersection that most people consider to be the center of town, right by the courthouse.
(Interestingly, at this particular point, Main Street is part of the route of the Lincoln Highway. So at the intersection of Main & Lincoln we have the Lincoln Highway intersecting with Lincoln Avenue.)
A map of Goshen from 1852 shows that the current "Lincoln Avenue" was once known as "Market Street".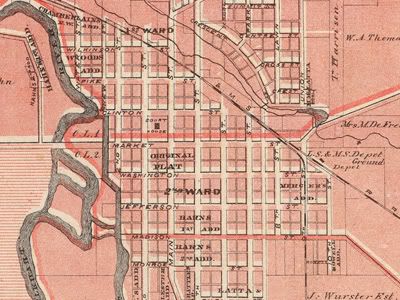 Map of Goshen from 1852. Note "Market Street" designation for what is now called "Lincoln Avenue".


Since this map was published prior to the assassination of President Abraham Lincoln, my guess is that the citizens of Goshen later renamed Market Street in honor of the late president. However this is just conjecture at the time of this writing. I am attempting to track down official records to find out when the name of the street was changed and why.
Regardless, Lincoln Avenue has nothing whatever to do with the Lincoln Highway. It's a completely different street. But if you ask directions to the "Lincoln Highway" most Goshen residents are going to send you to Lincoln Avenue because it's the only Lincoln that most of them know.
Don't be a victim! When you're travelling through Goshen, know your Lincolns!