Like the
Olympia Candy Kitchen
that I mentioned in an earlier post,
Sorg Jewelers
is another Goshen business that Lincoln Highway travellers will probably be interested in.
Sorg Jewlers on the Lincoln Highway in Goshen. Sorg's classic neon sign is a favorite. Dave Zollinger photo.
Located right on the Lincoln Highway at 120 S. Main Street, Sorg's has been in business and owned by the same family since 1900. Many Goshen families, my own included, have been doing business with the Sorg family for generations.
Sorg's Goshen store (they've always had one in Elkhart as well) is in a neat old building that has a date of 1880 shown on the front. Many downtown Goshen businesses are housed in buildings that were constructed in the 19th century. Sorg's neon sign is something from a bygone era too.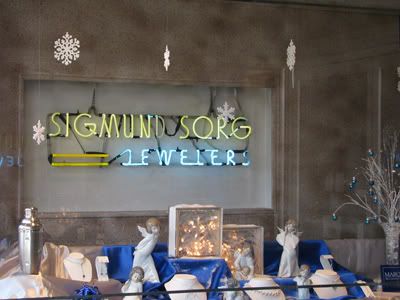 Sorg's display windows, always beautiful, have their own classic neon signs as well. Dave Zollinger photo.
Sorg Jewelers is easy to find, just a half block south of the
Elkhart County Courthouse
on the east side of the street.
Map:
View Larger Map