When you're exploring Goshen on the Lincoln Highway there are quite a few things that you're going to want to visit while you're downtown. The west side of town has it's share too. But when you're following Lincolnway East there aren't a whole lot of things to see. Unless, of course, you enjoy looking at Wal-Mart, Arby's, Menards, and all the rest of the modern landscape.
However there is one very interesting part of Goshen's history for you to visit while you're on the east side, and it's located right on the Lincoln Highway.
Many people who live here drive by the Fort Beane marker day after day and never give it a thought. I am amazed at the number of local people who say, "I always wondered what that was!" when I mention the memorial. Others tell me that they've never even noticed it.
Since you are one of the very, very, few people who read anything on this site, you'll not only know what the marker is all about, you'll know where to find it too.
Exciting, isn't it? Kind of like being in an exclusive club.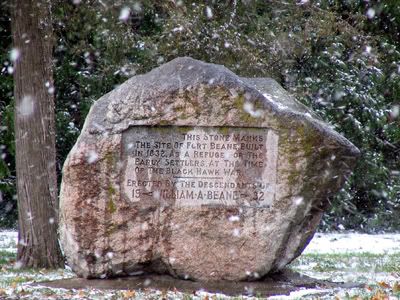 The Fort Beane monument. Located on the west side of Lincolnway East, between Reynolds Street and 15th Street. Dave Zollinger photo.
The story of Fort Beane is an interesting part of Goshen history. Like many area communities, Goshen raised a militia during "The Black Hawk War" in 1832. The citizens of Goshen were afraid that Chief Black Hawk and his band would leave Illinois and pass through this area since they were known to have relations nearby in Michigan. The Goshen Militia Company eventually decided to build a fort near the road that led to Benton (and on to Ft. Wayne) and named the fort in honor of their Captain, Henry Beane.
According to the histories that I have read, construction on Fort Beane was halted shortly after it started and never got much further than a few log palisades.
The road that the old fort was constructed beside eventually became the Lincoln Highway.
Learn more about The Black Hawk War:
Black Hawk War at Wikipedia
Black Hawk War of 1832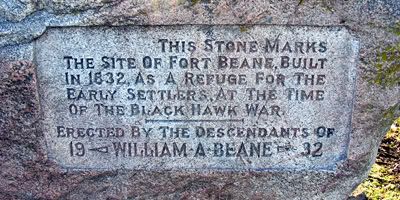 Closer view of the inscription on the Fort Beane marker. Dave Zollinger photo.

If you decide to visit the Fort Beane marker, a word of caution. Traffic on Lincolnway East is usually very heavy in this area. You would do well to park somewhere west of the monument on Reynolds Street in the residential area and walk to the stone.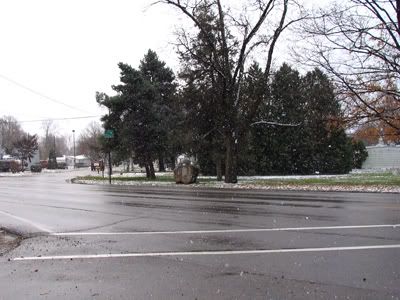 View of Fort Beane marker taken from E. Reynolds St. Looking SE towards 15th St. Dave Zollinger photo.


Map to Fort Beane marker:
View Larger Map