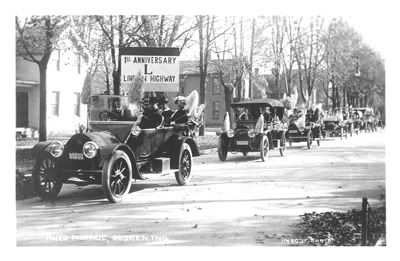 Photo courtesy of Goshen Historical Society.
Here is an interesting image from the archives of the Goshen Historical Society.
The photograph is marked "Auto Parade, Goshen, Ind." and "Inbody, Photo.". As you can see the sign in the background reads "1st Anniversary Lincoln Highway". I was told by Dale Garber, who is a talented historian, that the photo was taken on Madison Street.
While I was studying this photo I noticed something interesting. Compare the first car in the "auto parade" with the car shown in the photo in this post:
Travelling The Lincoln Highway 1914
. Clearly they are the same vehicle.