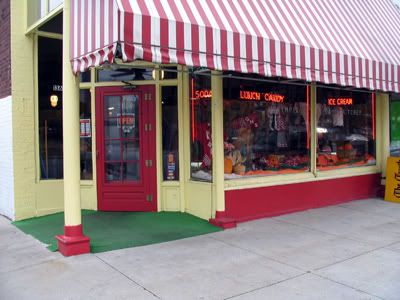 The Olympia Candy Kitchen. Dave Zollinger Photo.
No trip through Goshen on the Lincoln Highway would be complete without stopping for a visit at the
Olympia Candy Kitchen
.
The Olympia is truly a Goshen institution. My wife, son, and I spend lots of time there. It's our favorite place to eat. I can remember visiting the Olympia with my parents when I was young, and my parents tell stories about hanging out there as teenagers back before World War 2!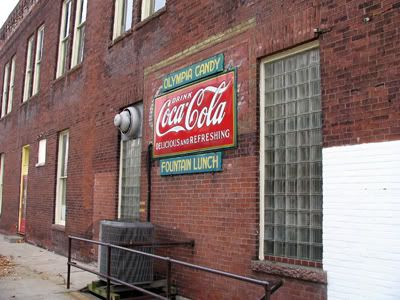 "Coca-Cola" sign on the north side of the Olympia. Dave Zollinger Photo.

In continuous operation by the same family since 1912, the Olympia offers good food, old fashioned soda fountain treats, and delicious home made candy. Everything about the Olympia today is just like it was when I was a kid, over 40 years ago. This is no retro-diner. This is the real thing. Visiting the Olympia is like stepping back in time.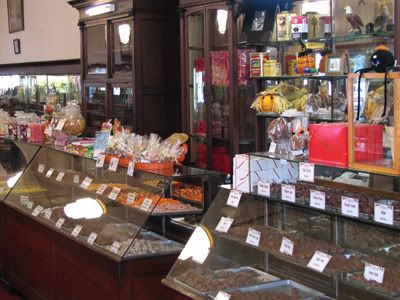 Part of the candy counter as it appears today. Dave Zollinger photo.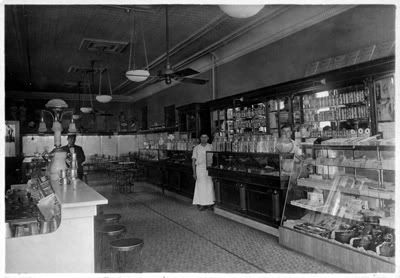 Interior view of the Olympia, date unknown. The display case shown at the lower right of the photo is still in use today.
Photo property of Kathy Andersen, Olympia Candy Kitchen. Used by permission.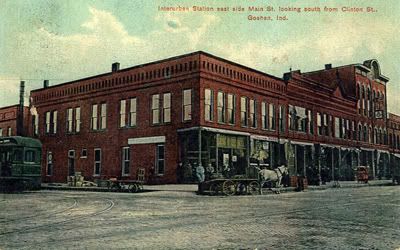 Scan of an old postcard from the collection of the Goshen Historical Society. Caption reads: "Interurban Station east side Main St. looking south from Clinton St. Goshen Ind." The date is unknown, however it shows the building before the Olympia opened at corner location in 1912.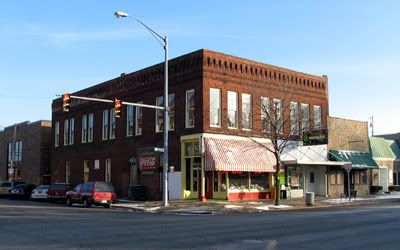 Similar view to the one shown in the postcard above, as it appears today (Winter 2008). Dave Zollinger photo.
The Olympia is located at 136 N. Main Street in Goshen. It's right along the route of the Lincoln Highway, across from the
Elkhart County Courthouse
.
Map to the Olympia:
View Larger Map