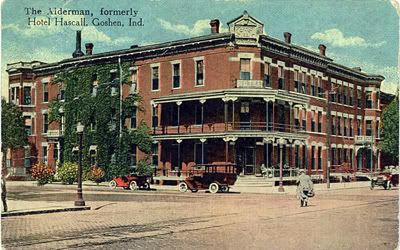 Postcard of Hotel Alderman. Complements of Goshen Historical Society.
The image above is a scan of a well known postcard that shows a view of the Hotel Alderman in Goshen, Indiana. The caption reads "The Alderman, formerly Hotel Hascall, Goshen, Ind.". The postcard does not have a date showing when it was issued but it does have a stamp cancellation dated 1916.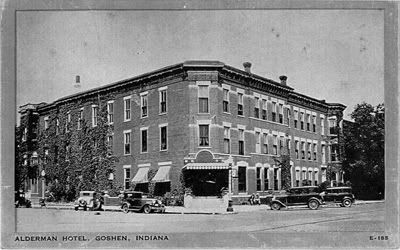 Another postcard from the collection of Goshen Historical Society. Date unknown but believed to be later than the one shown above.
One history reference that I have says that the hotel changed hands about 1915. Although the postcard says that the "Alderman was formerly known as the Hotel Hascall", several Goshen old-timers that I talked to remember it being the other way around. According to those who I have spoken to, the hotel was last known as the "Hotel Goshen", before that is was known as the Hascall, and was the Alderman before that.
If anyone reading this knows about the history of the hotel, please drop me an email:
w9daz@arrl.net
or leave a comment, below.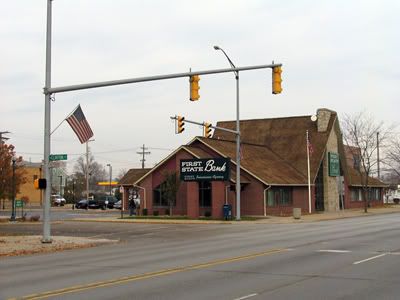 Former location of the Alderman as it looks today (Fall 2008). Dave Zollinger photo.
Even though I can't tell you for sure what the hotel was named at any particular time, I can tell you for sure where it was located.
The view in the pictures shows the intersection of US 33/Main Street (US 33/Main Street was the Lincoln Highway in this part of town) and Clinton Street, looking toward the northwest. The hotel was located at the northwest corner of the intersection, just north of the
Elkhart County Courthouse
and diagonally across from the
Olympia Candy Kitchen
. Currently (2008) there is a branch office of the First State Bank of Middlebury located at the site of the old hotel.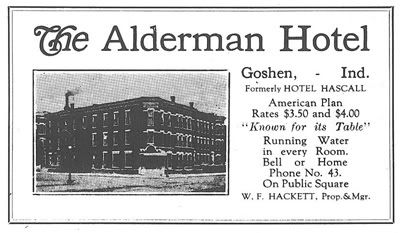 The Alderman was advertised in Lincoln Highway travel guides.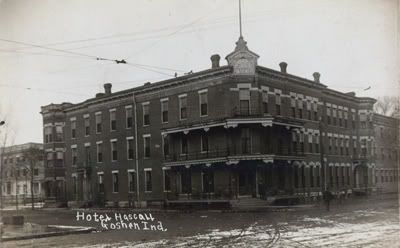 Photo of the hotel taken in 1908. Note that it is captioned "Hotel Hascall". Image believed to be public domain.
So if you're following the Lincoln Highway through Goshen now you know where the Alderman Hotel that was advertised in all those guidebooks once stood.
This post will be updated as I find out more informaton about the history of the hotel.
Map to former site of Alderman Hotel:
View Larger Map